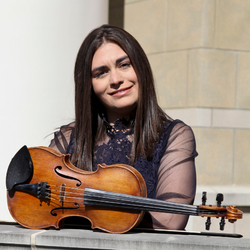 Mariela Shaker Performs for Northwestern University community
December 14, 2022
Supported by the MENA Languages Program, the Edith Kreeger Wolf Distinguished Professor Endowment, the Crown Family Fund for Middle East Studies, and the Buffett Institute for Global Affairs, Mariela Shaker began her latest United States tour here at Northwestern University on November 21, 2022.  The title of Shaker's performance is "My Bow Bends for Peace," and Shaker gave a profoundly moving performance with her images, words, and  violin. 
Backed by three videos, Shaker discussed her experiences living in war-torn Syria, her struggle and diligence to find a way out, and her life as a refugee in the United States and Europe. The tragedies and difficulties Shaker has experienced, as well as the optimism that Shaker holds close, were all powerfully on display in her music selection and playing.  
Shaker's performance successfully brought attention to the situation in Syria and to the violence, hunger, and everyday dangers facing Syrians over the past years and currently.  It also shed a spotlight on the losses and difficulties that refugees experience, having to flee their home and start anew.  Shaker's music is raw, vulnerable, and heart-wrenching.  Yet, in spite of this, Shaker has hope for the future and she has gratitute for the power of music.  Shaker believes that music is a tool to bring people of different backgrounds together and to pashion peace and love in our world. 
Shaker is an award-winning and internationally acclaimed violinist.  She is the founder and director of Highams Park Music Academy in London, and she is Violin faculty at Knox College and Monmouth College.  Among her many accolades, Shaker works with the United Nations High Commission on Refugees.  She played at the Kennedy Center to commemorate World Refugee Day, and several United States Presidents have recognized her work, including President Obama who named her Champion of Change for World Regugees.