Student experiences
---
Rama Darayyad
Virtual Program learning American Sign Languge, Summer 2022
Rama Darayyad is an Advanced Arabic Language student in the MENA Languages Program.  Rama was the first Undergraduate Language Grant award recipient to use her award to study American Sign Language.  
This summer, I had the opportunity to study ASL in an 8-week intensive course at the University of Chicago's Summer Language Institute, providing me with a year's worth of ASL instruction.  I chose to study ASL because proficiency in this language is essential to my ultimate goal of becoming a hearing healthcare professional qualified to visit underserved countries to serve Deaf regugees and individuals with hearing loss around the world.
I spent four days per week, from 9AM to 12PM, with class time focusing on learning new signs and implementing sentences to achieve proficiency. Then, we had ten-minute uninterrupted conversations with each other which involved fingerspelling and signing at a faster speed.  Additionally, since communication in ASL is based on visual signs mainly done through hands, facial expression, and body language, being remote for this course actually served as an advantage as it took away the barrier of masks. Overall, I had a wonderful experience learning both about Deaf culture and ASL.  I'm grateful for this journey, and I know there is no end to it as there is always more to learn.  Nonetheless, I'm excited to further indulge myself in the language and dedicate my knowledge and experiences to helping others.  
Jovana Lakic
Virtual Program learning Bosnian-Croatian-Serbian, Summer 2022
I was lucky enough to win a 2022 Summer Undergraduate Language Grant to fund my studies in my heritage language, Bosnian-Croatian-Serbian. This language is not taught at Northwestern, where I was taking Turkish.  I had grown up speaking a strange mix of my own language and English, makint it hard for family, friends, and strangers to understand me. While I could speak to some extent, my writing and reading were nowhere near where they should have been for my age, since I had never learned in a formal setting like I had English or German. As I am especially interested in working in the Balkans in my future career in global health or international law, I felt it was high time to fix that. I used my grant to studt BCS at the University of Pittsburgh, virtual for the 2022 year due to Covid-19.
We learned for five hours per day in a small setting with personalized attention, which was perfect for my needs as a heritage speaker. I made great connections with my classmates and my professor. I even learned things I never knew before about my own culture. Now I am able to confidently speak, read, write, and teach muself even more advanced forms. I will be returning to continue my Turkish studies at Northwestern, expecially as it is a language that has had an extremely strong linguistic influence on BCS. Ironically, sometimes I would find muself recognizing newly-learned words in my heritage language through my previous knowledge of Turkish or vice-versa! This enforced to me both the importance of and the genuinely fun aspects of learning multiple languages. I am very grateful to have had this experience this summer, and I know it will be of use in my future educational and professional goals. 
Dominic Balestrieri-Fox
Turkey, Spring 2021 
Dominic Balestrieri-Fox was a Fulbright English Teaching Assistant in Trabzon, Turkey.  Although the experience was altered due to Covid-19, Dominic enjoyed the experience.  Read about Dominic's Fulbright experience in Northwestern Now's profile.

Mara Kelly
Jordan, Summer 2019
This summer, I had the opportunity to travel to Amman, Jordan to participate in a 7-week intensive Arabic language program with the assistance of an Undergraduate Language Grant. I spent five days a week both learning Arabic in a classroom setting, and applying my language skills in the community through activities such as scavenger hunts in downtown Amman, and learning how to cook local Bedouin food. This gave me the opportunity to not only study the language in-depth but also to practice my Arabic skills with native speakers. The study abroad program also organized excursions to the Dead Sea and Petra.  During my time in Jordan, I lived with a Jordanian host family, which was the highlight of my experience.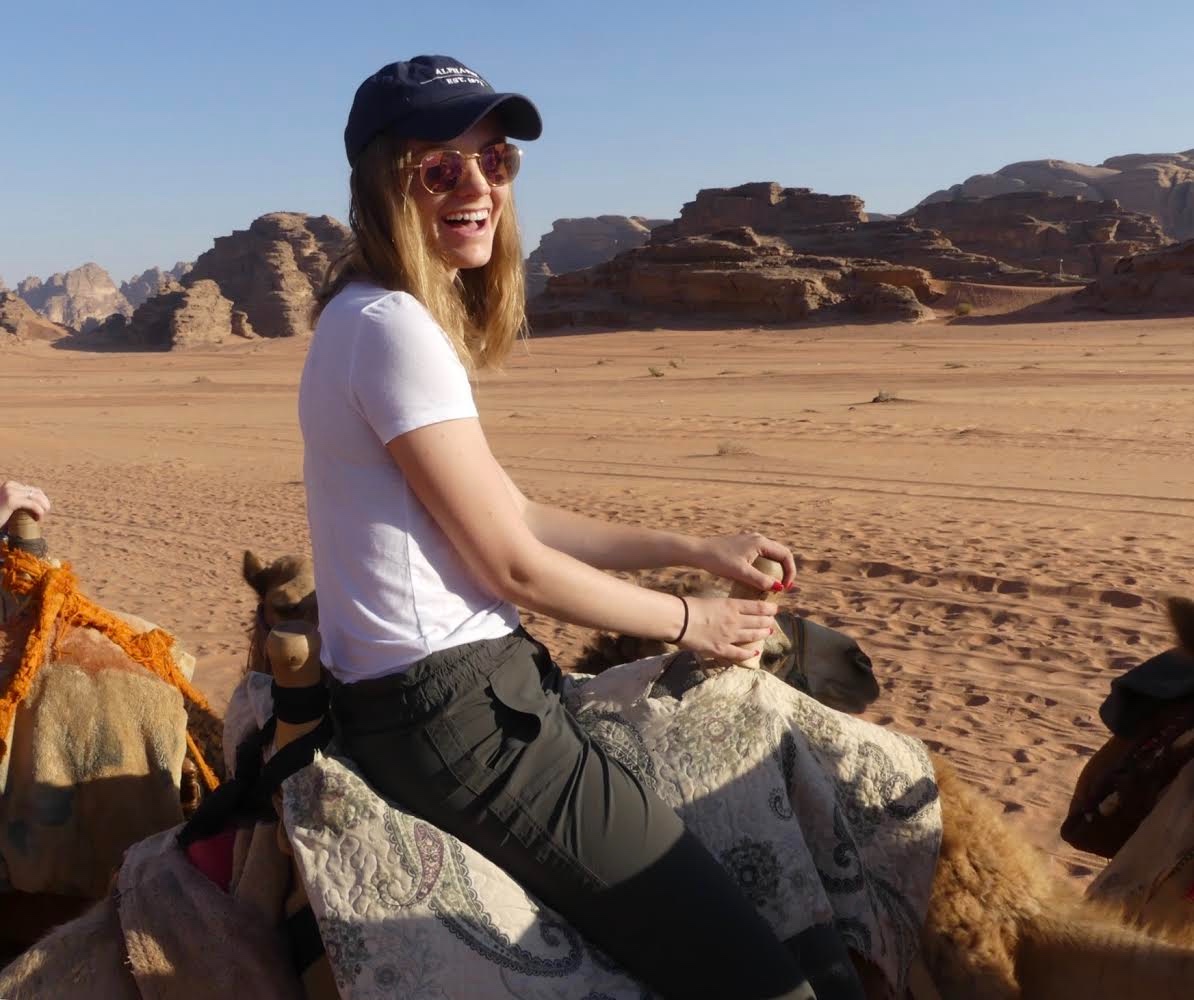 My host family helped me feel at home in Jordan and was incredibly welcoming. I had two sweet and energetic host siblings, Mirna, age 9, and Munir, age 7, who never failed to keep me entertained and put a smile on my face. Because family is so central to Jordanian culture, I not only became close with my immediate host family but also with my host grandparents, uncles, aunts and cousins. The entire extended family would frequently come over to my host family's apartment for meals or just to hang out at the end of the day. Through my host family, I was not only able to consistently practice my Arabic but also to become immersed in Jordanian culture.  I am so grateful for how much I learned about Arabic and Jordan through my summer in Amman, and I hope to visit again in the near future.
Hannah 

Ni'Shuilleabhain


Turkey, Summer 2019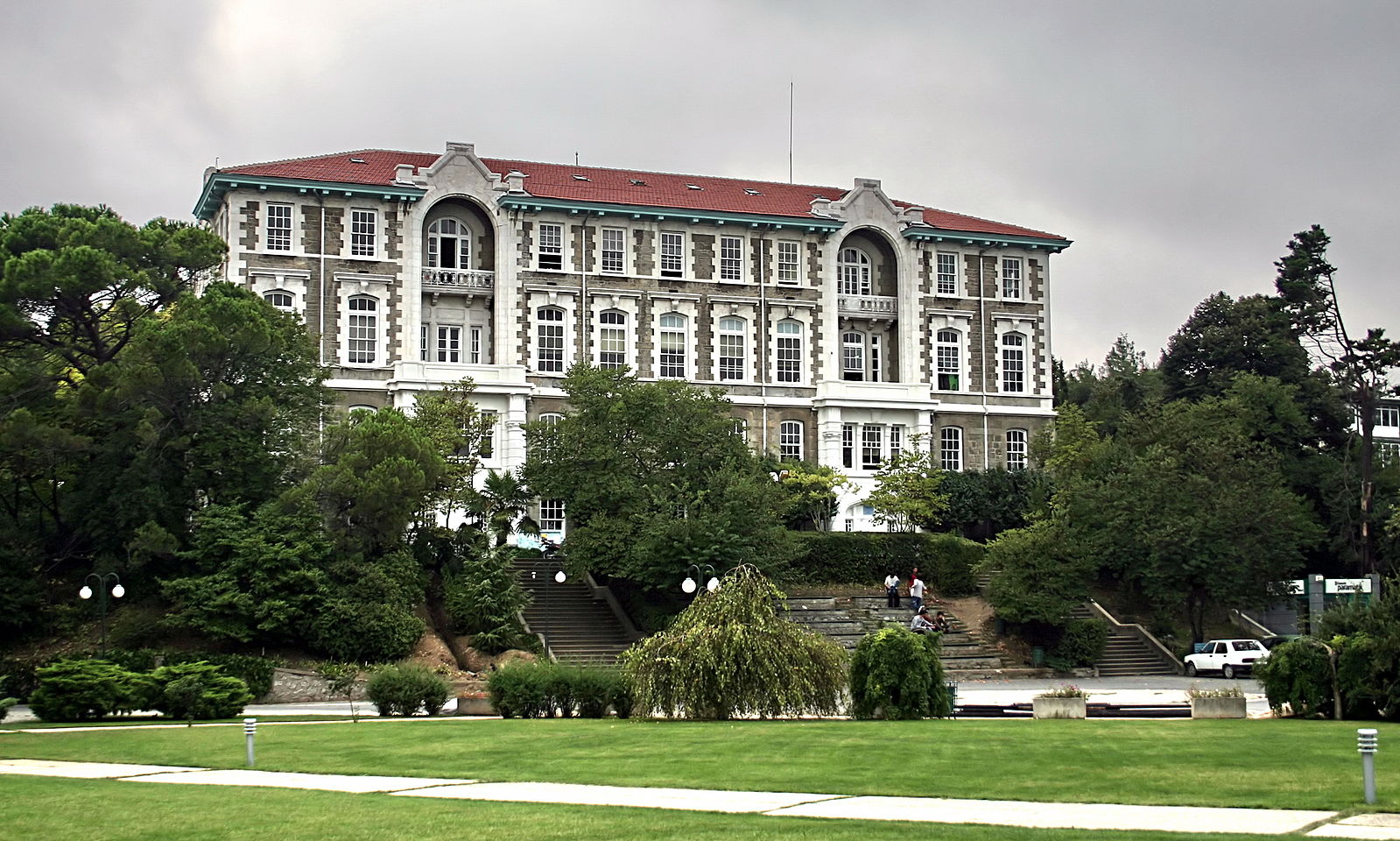 My summer in Istanbul, Turkey was an experience I could not have predicted. From June 19 to August 6, I was attending classes at Bogazici University under the Turkish Language and Culture program. For four hours a day, Monday to Friday, I participated in Reading, Writing, Speaking and Grammar classes led by Bogazici professors who primarily stuck to Turkish in their lessons.
Although I thought that I had learned sufficient vocabulary and grammar structures from two years at an American university, I was plunged into an experience much more expansive and stimulating, and thus more challenging. During the structured classes, I learned precise grammar and elevated language. During the casual talk hours with the grad student TA's and campus friends, I was exposed to more colloquial structures and vocabulary. These were expectations that threw me at first, but I adapted quickly. It was also something that I could experience only by being outside of Evanston.
The experiences available outside of class were never-ending, and even though I participated in many events, I know Istanbul can offer even more to each person depending on their interests.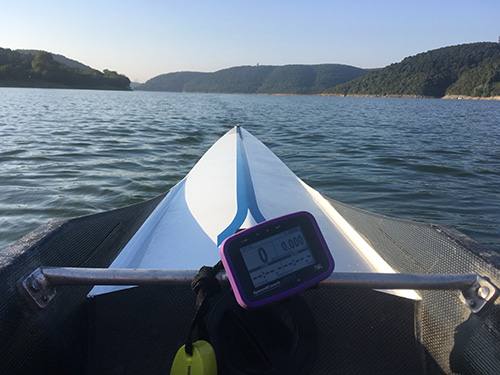 For me, I got to delve into the Turkish student-athlete life by participating in rowing practices at Alibeykoy Baraj Golu and chatting with the student rowers on campus. Transportation is accessible and expansive, so I and my classmates took buses, subways, and ferries to areas such as Buyukada, Balat, Kadikoy and Bursa.
Coming back from Turkey, I could pack so much: clothing that was significantly cheaper, books in Turkish that felt near impossible to find in person, foods that just wouldn't have tasted the same when shipped. But I was most excited to bring back an improved mindset around learning Turkish. Having taken this summer course, and thus making connections with Turkish and American students and professors, I'm a more confident speaker and excited to continue building my language skills and grow in my knowledge of Turkish history and culture.
Dominic Balestrieri-Fox
Turkey, Summer 2018

From June 20th to August 5th, I participated in Boğaziçi University's Turkish Language and Culture Program, an intensive summer language acquisition program for students at the intermediate and advanced levels, for which I received generous financial aid from the American Research Institute in Turkey and Keyman Modern Turkish Studies Program. It was my first time in Turkey, but thanks to the quality of the program and the wonderful people I met while in Istanbul, I had an amazing experience and significantly increased my level of Turkish language proficiency.
At the University, our weekly schedule consisted of reading, writing, speaking, grammar, and TA-led conversation classes in hour-long blocks, five days a week from 9 AM to 3 PM. I was in the advanced reading class and had an extra hour of reading per week. At 1 PM we had an hour-long lunch break, followed by either a conversation session or another planned activity. The students in the program generally had an hour or two of homework, which we often completed in a café or on campus before gathering to hang out and socialize in the evening.
I stayed in Boğaziçi's Superdorm, a large dormitory complex roughly 10 minutes' walk from downtown Rumeli Hisarüstü and 20 minutes from South Campus, where classes were held. The dorm had a small on-site market, study rooms, and a laundry room. The surrounding neighborhood, Rumeli Hisarüstü, had a number of excellent breakfast and brunch restaurants, cafés, and dinner options. My friends and I ate most of our meals in the restaurants there. Hanging out on campus outside of school was another favorite pastime.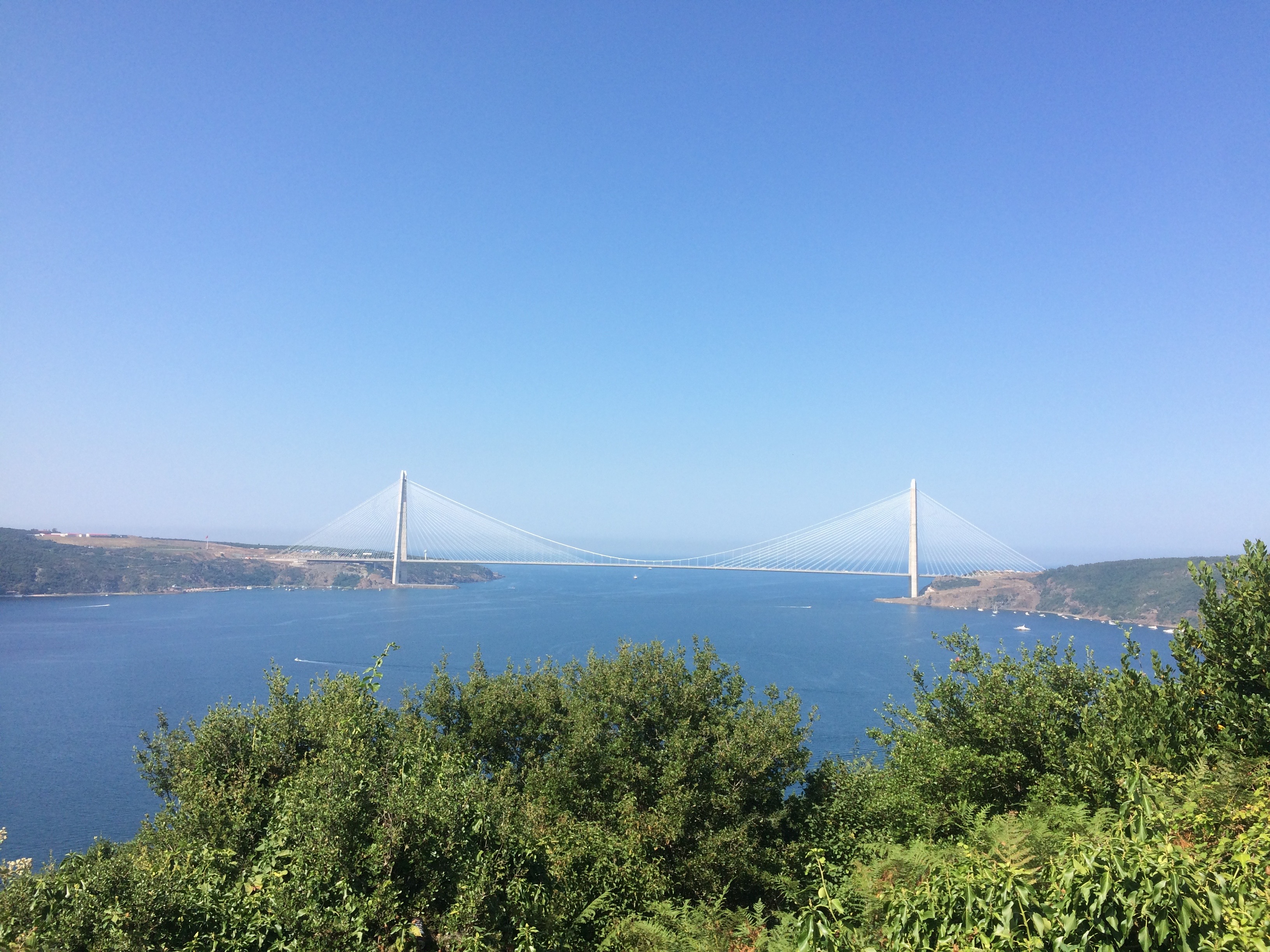 After classes had ended, and early in the morning when I was finishing up homework, I would sit in the row of shaded benches overlooking the bluff, some with a view of the Bosphorous and ships below. Our TAs were friendly and always willing to meet outside of class, and they frequently invited us to home-cooked meals, bars, restaurants, cafés, and events in and around campus. The University's grassy quad became a popular gathering spot. One night we brought a picnic blanket and things to eat and drink; we sat on the grass and watched several Turkish short films.  If one follows the trail from the benches to the more wooded area nearer the entrance to campus, an old stone staircase leads down the hill to a swimming pool, just a few meters from the boardwalk between the neighborhoods of Bebek and Arnavutköy. My friends and I made sure to venture off-campus as well, and we frequently went on group trips to neighborhoods such as Beşiktaş, Levent, Nişantaşı, Beyoğlu, Taksim, Fener, and Balat.
The summer I spent in the TCLP program was one of my best, and it gave me a lasting positive impression of İstanbul. I went from lacking confidence in speaking Turkish to being comfortable in conversation and writing. As a result of my experience, I am eager to return to Turkey and continue my studies of the Turkish language and culture.