Visiting Scholar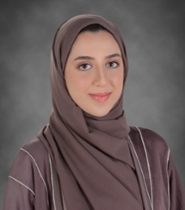 Fatima Alhammadi, Fulbright FLTA, Arabic
Fatima is the Fulbright Foreign Language Teaching Assistant in Arabic for the academic year 2022-2023 at Northwestern University's MENA Languages Program.
Fatima is from the United Arab Emirates. She was raised in Sharjah, the cultural and literature hub of the UAE. She has recently attained a BA in English Language and Literature from the American University of Sharjah. For Fatima, writing had always been an important form of expression. When not doing research, she takes the time to free-write passages of poetry or prose in both English and Arabic.
As an undergraduate, Fatima joined the English department's Fellows Program where her responsibilities ranged from serving as the student-faculty liaison, publishing one issue per year of the department's e-journal, to organizing annual events. Fatima has also interned for the international non-profit organization, Soliya, where she was a member of the Student Management team assisting senior coordinators and team directors.
During her time as a Fulbright FLTA and cultural ambassador at Northwestern University, she plans to bridge the distance and familiarize American students with the Emirati culture. She also wants to learn more about America and its history. Ultimately, her goal is to contribute and become an important asset to the Middle East and North African Languages Program.
Back to top