Faculty projects
gender equality in the language curriculum 
Professor Rana Raddawi is leading a two-year project on Gender Equality in the Language Curriculum from 2022-2024.  The working group aims to investigate how language curricula draw on and perpetuate gender stereotypes and how curricula can be reassessed to challenge and overcome steroetypes in order to advance gender equality in language learning and beyond.  The work is made possible through the Buffett Institute for Global Affairs Catalyst Grant Award. 
international classroom partnerships

In their Advanced Arabic courses, Professor Fadia Antabli in 2021 and Professor Rana Raddawi in 2022 each partnered with Sorbonne Nouvelle University, Paris III, Department of Arabic Studies to bring together Arabic-speaking students of similar ages and educational levels.  Through the partnership, the students gain a better understanding and feel of how culture affects communication. Students establish comparisons between American, French, and Arab cultures to explore where these three cultures intersect. The partnerships were made possible due to the International Relations and the Buffett Institute International Classroom Partnering Grants.  
DEVELOPMENT OF CITY COURSES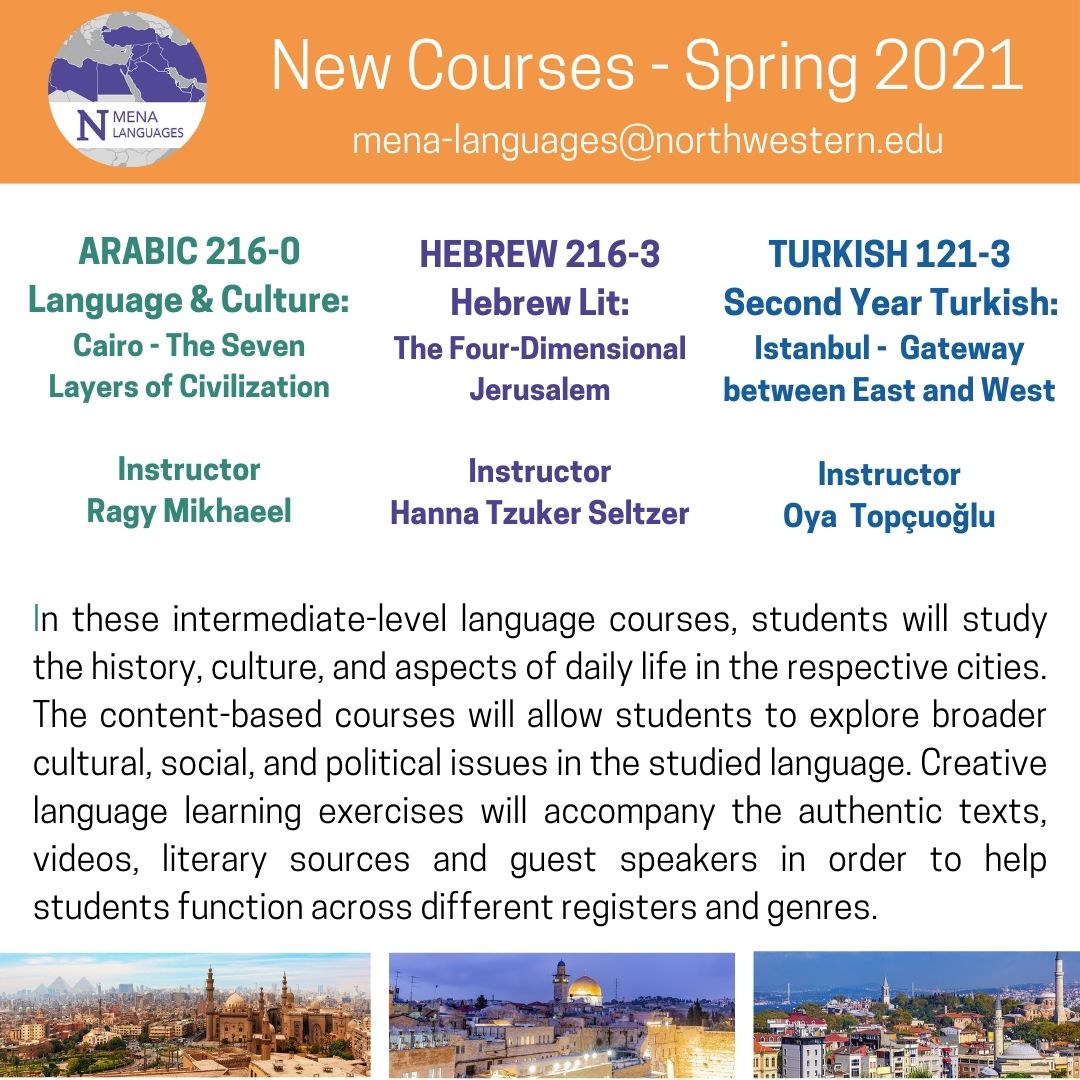 Working closely with WCAS' Media and Design Studio, three of our instructors - Professors Ragy Mikhaeel, Hanna Tzuker Seltzer, and Oya Topçuoğlu - designed new content courses centered on the topic of cities.  Professor Mikhaeel developed "Cairo and Seven Layers of Civilization" for Arabic.  Professor Seltzer developed " The Four-Dimensional Jerusalem" for Hebrew.  Professor Topçuoğlu developed "Istanbul: Gateway between the East and the West" for Turkish.  The instructors received two prestigious Alumnae of Northwestern Grants in 2019 and 2021 as well as a WCAS Hewlett Grant for Curricular Innovation in 2022 to design the new courses.  
ARABIC student's dictionary

The Arabic Student's Dictionary was developed by Professor Fatima Khan and it allows students to look up an Arabic word more accurately than google translate.  The guesswork of figuring out the root is eliminated and you can see words from the root as well any related expressions. The ideal search is from Arabic to English, but you can search by trans-literation or also English words.  Search for any Arabic word or as any verb form.  It currently is available on desktop, mobile, or tablet.  In 2022, Professor Khan received a Provost Award for the continued development of the online dictionary.  Please contact Professor Khan for additional information.   
ARABIC FOR BROADCAST NEWS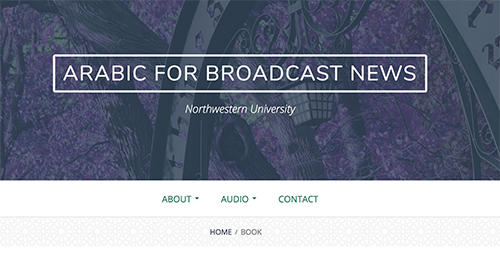 This website contains speech samples to practice the more specific, stylized content of Arabic-speaking media such as Al Jazeera or BBC News Arabic and to learn more about the Middle East and its conflicting interests as portrayed in broadcast news. Recordings of headlines and short broadcast features (together with print exercises) enhance and train listening comprehension and vocabulary.  This is a companion site for the textbook "Arabic for Broadcast News". Please contact Professor Khan for access to the webpage.
LIVING ARABIC
Spoken Dialect for First-Year Arabic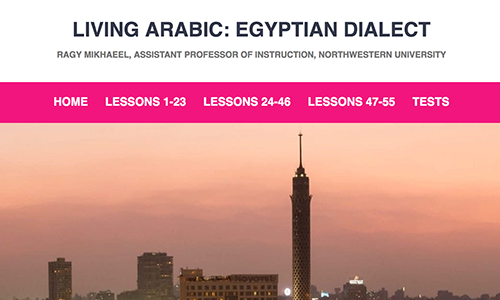 In an attempt to introduce more modern, proficiency-based materials into teaching and learning Arabic, Professor Mikhaeel developed 45 listening passages and 45 dialogues of conversational Egyptian Arabic for first-year students in college. In 2022, Professor Mikhaeel received an Afordable Instructional Resources grant for the continued development of the site.  These recordings, adapted from dialog scenarios and scripts based on Munther Younes introductory course "Living Arabic",  are presented in a web project called "Living Arabic" where they expose students to one of the most widely used Arabic dialects. The material is highly flexible and can be used for self-learning or can be added to any regular classroom instruction. Visit the site here: http://sites.northwestern.edu/livingarabic/
TEACHING ADVANCED ARABIC MANUSCRIPTS
A Pedagogical Tool for the Teaching of Advanced Arabic

A longstanding challenge of language instruction is introducing non-native and heritage speakers to ways of writing they have never seen and developing their skills and confidence to get into challenging areas of research typically dominated by native speakers.
 

In order to teach students how to decipher Islamic manuscripts, Professor Mikhaeel developed
an online tool with
six pilot lessons
for advanced Arabic language students to interact with audio and video explanations while analyzing annotated texts from Arabic Manuscripts from the West Africa collection housed in Northwestern's Herskovits Library of African Studies. The project,
supported by a Provost Award for Digital Learning in 2018, 
was developed by
Northwestern's IT group using the Lightboard as a pedagogical tool. The goal of the project is to
expose students to an aspect of humanities research that many will be experiencing for the first time.