Ragy Mikhaeel
Associate Professor of Instruction, Arabic
MSc., Cairo University, 1990; MRes, York University (UK), 1997; MPs, Cornell University, 2009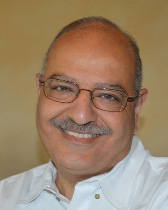 847-467-0927
Crowe Hall 4-117, 1860 Campus Drive, Evanston, IL 60208
Office Hours: Mon & Wed 11-12. Mon 2-3 & Fri 1-2 by appt.
Ragy is a native of Cairo, Egypt. He taught Arabic at Cornell University, Ithaca College, and Hobart and William Smith Colleges before coming to Northwestern. He is the author of Barron's 
Learn Arabic: The Fast and Fun Way
 (as Ragy H. Ibrahim), which focused on the Egyptian spoken dialect, and has worked on several curriculum development projects, including the preparation of an Egyptian dialect version of Munther Younes's 
Living Arabic
 textbook. From 1993–2002, Ragy worked as a journalist for

 
Al-Ahram
 

Weekly (Cairo), covering art, politics, the environment, popular science, and gender. He received the 
2015 Excellence in Foreign Language Teaching Award
 from the Council on Language Instruction (CLI) and the

 
2017-2018 Provost's Fellowship for Digital Learning Award
 for developing an online tool for his Arabic language students to interact with audio and video explanations while analyzing annotated texts from the Arabic Manuscripts from West Africa collection in Northwestern's Herskovits Library of African Studies.
Back to top